Topflighthotel.com is a One-Stop-Travel-Shop and in this article, we will take you to an island in the middle of the Caribbean. This island is split into two, Saint Martin, the french part on one side, and Saint Maarten, the Dutch part on the other side.
St Maarten, being the Dutch side of the island, is known for its lively nightlife scene, cheap alcohol, casinos, and tax-free shopping. It's definitely the party side of the island but it also has lovely beaches, great for water sports and a wider range of hotels than on the French side.
Saint Martin, the French side, is known for its high-quality restaurants, nude beaches, lively markets, and typical French Caribbean vibe. If you come to this part of the globe, I highly recommend visiting both sides of the island because they are distinctly different!
Airlines from all over the world fly to this fantastic island, where 2 cultures blend in fantastically with a tropical flavor. Before flying to this fantastic island, please check our store and get an instant quotation for travel insurance to protect yourself and your family. The island is the host of many beaches, lagoons, luxury hotels, elegant villas or apartments, and over 300 restaurants. You'll find the best chefs preparing European, American, or Asian cuisine. Casinos, discos, and nightclubs stay open till dawn.
One of the most famous beaches is Maho Beach. This beach is on the Dutch side and you will find many video clips on YouTube as it is a popular destination for crazy plane watchers, watching planes landing and taking off. Here you can literally "swim with airplanes".
One of the best experiences while visiting St. Maarten is Sea Trek, Underwater walking. This activity is open for anyone aged 8 and over.  It is also highly recommended for anyone who is not a good swimmer. On your trek, you will see shipwrecks, coral reefs, and a lot of tropical fish. There is also SNUBA diving, Diving without a tank. This is perfect for wanna-be divers. Instead of carrying the tank, you are tethered to a raft that holds your tank. You can dive at 20 feet without lugging around heavy equipment or worrying if you are going to get sick for 2 hours.
Grand Case is often referring to the Gourmet Capital of the Caribbean, with its high-quality restaurants offering a fusion of French, the Caribbean, and Creole cuisine. I would advise you to dine here at least once during your visit.
A perfect half-day trip would be a visit to Pines Island, which is a small island in the heart of the St. Maartens Maritime Reserve. A 5-minutes ferry ride and is perfect for snorkeling, swimming, and sunbathing. For a nice lunch, we can suggest a family restaurant Le Karibuni which will give you a real tropical adventure.
Orient Bay is a 2 mile long white powdered sandy beach, protected from the Atlantic waves by a reef. Water sport facilities are available such as jet skis, sailboats, paragliding, and some kids' activities. On this trendy beach, you can enjoy a variety of cocktails, beach parties, and a cool vibe. Just perfect to spend an afternoon. I almost forgot to mention that here it is legally allowed to swim naked…for those who want to go for it.
The capital city is Philipsburg and here all big cruise liners will harbor. All arriving and departing tourists will enjoy the tropical sound of one of the many Steel bands. You will find live music in several locations all over the island.
Hiking through the untouched green hills will bring you to a secret hideaway, which is called Loterie Farm. On the hills of Pic Paradis, you can wine, dine, climb, hike and zipline over the treetop canopy. It is Not a farm, but more a unique beach club with private treehouses and a swimming pool. It is maybe not the cheapest location but for sure worth a visit and a glass of wine. A sneak preview of Loterie farm is available through their Facebook page.
Here you can also zip down on the world's steepest zip line with Rainforest Adventures.
Pay a visit to the local rum distillery of Toppers Rhum Factory and enjoy the tour and a rum-tasting at the end of course. But be careful, keep your head straight.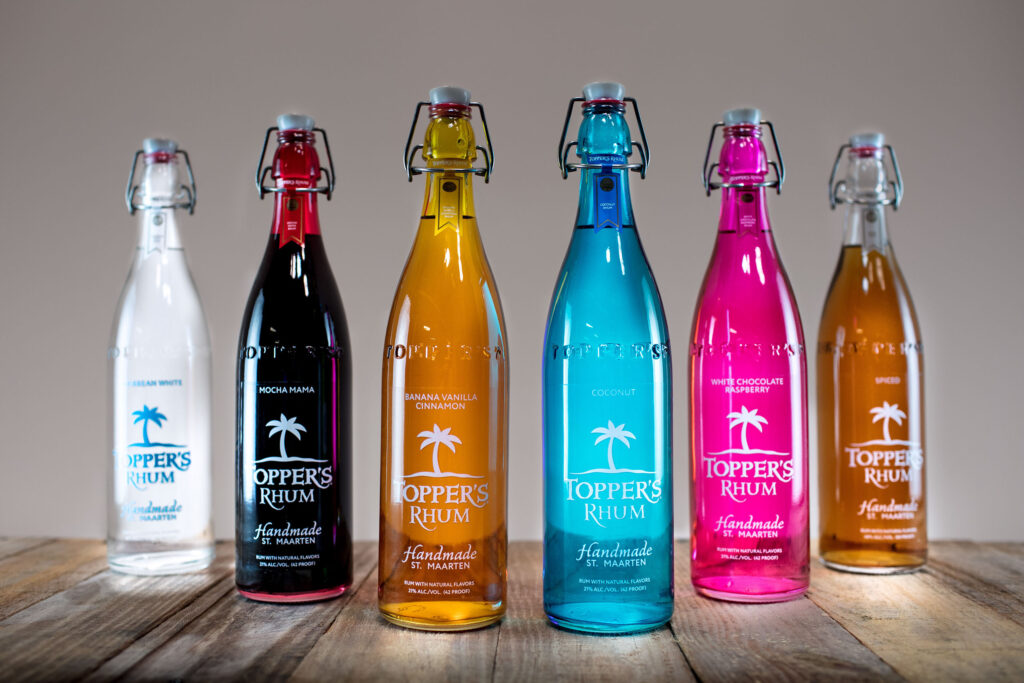 Shop until you drop in the capital city Philipsburg, Front Street. This is the perfect place for tourists to buy souvenirs, jewelry, local designer clothes, t-shirt shops, and liquor stores. 
On the Dutch side, you will find over 20 casinos to enjoy a game of blackjack, roulette, poker or to try your luck at one of the slot machines.
What do you think of a Sailing Cruise around the island? Watch the sunset on a boat with a cocktail in your hand and your loved one next to you.
Depending on which side you like to stay, St. Martin or St. Maarten, there is always something to explore or to do. The famous explorer Columbus, discovered St. Maarten in 1493, and to be precise, it was the 11th of November, which was a feast day called: St. Martin. The French and the Dutch were always in intense battles with one another over the land until 1648 when the Treaty of Concordia was signed. This allowed both nations to divide the island into two parts and enjoy each other's culture for many years to come.
Through our website, Topflighthotel.com, you can compare flight tickets, hotels, car rentals or airport transfers, excursions, where you can submit a flight delay claim if your plane arrives too late or take travel insurance to protect yourself and your family.