Bon Bini…what a better place for a vacation than a place with a peaceful ambiance, free of all the hustle and bustle, traffic lights, or day-to-day worries? There lies a place fulfilling all of your expectations. A place called Bonaire on the leeward Antilles in the Caribbean Sea.
Bonaire is an island and part of the municipality of the Netherlands. The major religion of this island is Catholicism. Its official language is Dutch, and the main currency is the US dollar, primarily according to the needs of tourism. It is an attractive tourist spot because of its warm, sunny weather and arid climate all year round. Visitors can reach Bonaire either by air or by sea from the Caribbean, Europe, North America, and Latin America. The airport is the Flamingo International Airport and is located in the capital city of the island, Kralendijk. Klein Bonaire is a small uninhabited islet off the west coast of the Caribbean island which is perfect for diving and snorkeling.
Activities For Adventure Junkies
Bonaire has a long history of nature preservation, and always seeks to find the delicate balance between environmental protection and growth while maintaining wild nature and rich culture. It has a natural and protected coral reef, which makes it one of the most ideal destinations for scuba diving and snorkeling. It is also famous for sports like boating, windsurfing, sailing, fishing, kite surfing, biking, volleyball, tennis, baseball, and association football.
Sites For Wanderers
Wanderers must try to visit Pigeon Cay, which is a coastal area with beautiful mangroves on the east side and a pleasing stretch of beach on the west side. Schooner Bay, which is a harbor village where one will find traditional Bahamian architecture, green living, and hydroponic agriculture. There is also the Karel beach bar if one wants to experience beautiful sunsets at this unique seafront bar and restaurant.
Bonaire is also famous for its heritage and culture of the salt pyramids and slave huts, its natural wildlife areas such as the flamingo nesting sanctuary and a donkey sanctuary, Washington National Park, Washington Slagbaai National Park, and Bonaire National Marine Park, which are all managed by the foundation STINAPA and are open to all travelers. You will find donkeys all over the island, they are very friendly and they can move freely around the place! They are residents of Bonaire since the 17th century as they were originally a means of transportation by the Spanish.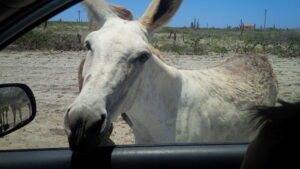 Diving and snorkeling in Bonaire
Bonaire is well known for its famous diving spots. Scuba diving can be done 24/7, 365 days a year in a fabulous underwater environment with access to many locations for shore and boat diving. There is more than 85 official award-winning dive sites on Bonaire and Klein Bonaire. Underwater you will find a paradise with more than 350 fish species and 57 species of soft and stony coral. Divers can see colorful large sponges and sea fans while diving Bonaire, as well as explore quite a few shipwrecks, and encounter various marine life like turtles, barracudas, and groupers. Angelfish, butterflyfish, seahorses, crabs, and shrimps can also be seen.
For Freediving you can boost your adrenaline. The Bonaire Deepsea Challenge attracts freediving competitors from all around the world. Bonaire diving conditions are usually good to scuba dive year-round. Actually, Bonaire has a reputation for having great weather all year round, but hurricane season is between July and November. Although technically below the hurricane belt, they have had their share of odd storms and received significant damage in 2008 from Hurricane Omar. Some drivers have said that some shallow reefs sustained damage from the Hurricane, but not the deeper areas.
After scouring Bonaire and the little offshore island Klein Bonaire for the best snorkeling spots. Other favorite snorkeling areas are Lac Bay, behind the barrier reef, and Bari Reef which is great if you like to see fish and my personal and most amazing snorkeling spot was at Wayaka in Washington Slagbaai where the fish swim between your legs and you can even touch them, (not guaranteed of course).
The people of Bonaire believe in the development of sustainable tourism. It has a variety of eco-friendly resorts, boutique hotels, villas, and other types of accommodation to suit every taste and budget. Bonaire also offers a lot to adventure junkies with thrilling water sports, eco-adventures, recreational sight-seeing, stunning beaches, dining, and shopping. From the depths of pristine waters to the height of the tallest peak, Brandaris, one can feel Bonaire's magic. Experience Bonaire's peaceful environment, enjoy the surrounding tranquility, and create your personal stories.
While you are on the island, ensure that you cover every corner of Bonaire. You will not regret it!